DFM Alumni e.V.
The DFM Alumni e.V. is the alumni association of the German-French law programs of the University of Cologne and the Université Paris 1 Panthéon-Sorbonne. It coordinates events for graduates and provides support for active DFM students.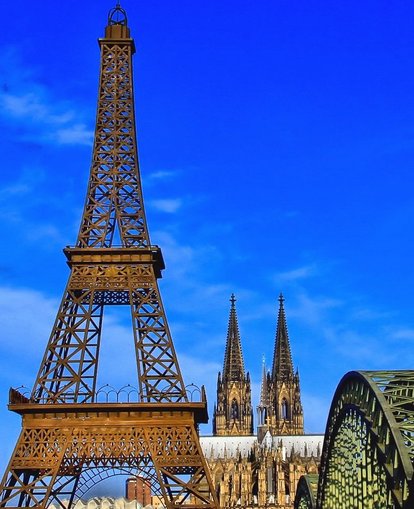 Alumni Stammtische: DFM Alumni e.V. has set itself the task of providing a communication network through which all graduates of the DFM programs can exchange information. The professional dialogue on German and French law as well as on professional perspectives and cooperation is as much a part of this alumni networking as the creation of opportunities to meet within the community of alumni. The regulars' tables of DFM Alumni e.V. - initially held in Paris, Cologne, Luxembourg, Brussels and Berlin - serve this purpose.
Support for students: The DFM Alumni e.V. informs about job offers, which are sent to it by alumni of the study program or partner law firms and which are of interest for the alumnae and alumni. The association also organizes a mentoring program in order to provide students with experienced contact persons for questions and tips. Furthermore, the DFM Alumni e.V. supports graduates of the German-French programs in their relevant doctoral projects.
Special events for students: The DFM Alumni e.V., together with the student associations - J.D.F.R. e.V. on the German side and JPC on the French side - is committed to supporting DFM students both financially and ideally. To this end, it organizes, for example, academic conferences as part of the lecture series "Le DFM discute", practical seminars with partner law firms, and information events for young professionals and trainee lawyers.
Student anniversary celebrations: DFM Alumni e.V. also coordinates the celebrations for the program's anniversaries, which traditionally take place every five years, alternating between Cologne and Paris.
Support for program management: Finally, DFM Alumni e.V. raises funds from various partner law firms, most of which are national as well as global leaders, which are used to improve study opportunities. These funds can be used, for example, to finance additional courses or to expand the services of the study office, thus further enhancing the quality of support for DFM students.
All further information on tasks, organization and membership can be found on the DFM Alumni e.V. website.
Board Members

The board members elected by the members of the DFM Alumni e.V. are actively engaged in the objectives of the association and, in addition to membership administration, are responsible in particular for the organization of numerous activities and events. The board consists of the following persons in the year 2022/23:




President of the DFM Alumni e.V.




Vice-president of the DFM Alumni e.V.




Treasurer of the DFM Alumni e.V.




Member of the DFM Alumni e.V.




Member of the DFM Alumni e.V.